If you are to succeed, perseverance is going to be your most important weapon. Here are the 3 keys to a winning mindset:
1. "Success is the ability to go from failure to failure without the loss of enthusiasm" – Winston Churchill
The number one reason people fail, is because they get a few rejections and give up. Many of the world's most famous people started off with lengthy periods of failure and rejection. James Dyson famously took 15 years and endured 5,126 failed versions of his duel cyclone vacuum cleaner before he got it right. The result? He is now one of the most famous entrepreneurs and inventors of all time and it worth an estimated £7.8 billion.
If you're reading this, it's likely you have experimented with your own business ventures before. Perhaps you have tried to sell personal training packages, or online programs and the uptake hasn't been good. Instead of giving up, question why they didn't take off, tweak your offering or your marketing tactics and try again.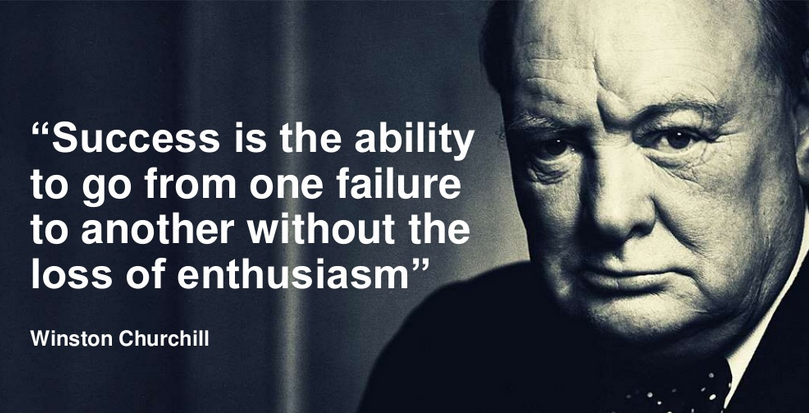 2. Treat Your Personal Training Like A Business
This is perhaps one of the biggest errors I see in the personal trainers I work with. Most personal trainers have this dream of a lifestyle business, but in reality, if you don't treat it as a business, you'll end up working 40-50 hours a week for a little more than minimum wage.
The only way to break that cycle is to treat your personal training as a business. Once you have that mind-set, making improvements becomes a whole lot easier.
Start reading business and entrepreneurship books and start implementing what you learn to your business. Seeking advice from business mentors and from people that have achieved what you want to achieve in this industry.
Businesses have to focus on all of the areas of business to succeed, and it's no different for you. If you don't have a marketing and sales plan and strategy, how do you expect to consistently attract new clients? If you don't track your finances, how do you expect to be able to monitor your sales and maximize profitability? If you don't have systems in place to manage client details and sessions, you're not going to be able to stay organised as you scale your business.
3. Focus On Results
Think about how much of your time you spend working ON your business, compared to how much time you spend working IN your business. Most personal trainers I talk to spend the majority of their time training clients, hosting classes or providing support for their clients, but very little time working on improving their business.
It's a tough one, because doing more sessions and hosting more classes equals more money right? Not necessarily. In the short term, maybe, but if you're ever going to build a scalable business, you have to take a step back and invest significant amounts of time into working on your business. Make sure that you are allocating time every single day to reading business materials, talking to mentors and building a winning business model.