If you have your own website, you've probably heard of SEO. SEO stands for Search Engine Optimisation and it is the process by which you make changes to your website so that your website shows up at the top of search results e.g when people search for 'personal trainers' in your area.
Whilst outranking major national gym chains can be a difficult task, out-ranking your competitors in local searches is often easily achievable.
This can make a huge difference when it comes to website clicks. According to Ignite Visibility, going from sixth to third in the Google rankings can nearly double your website traffic. That's a lot of extra potential customers!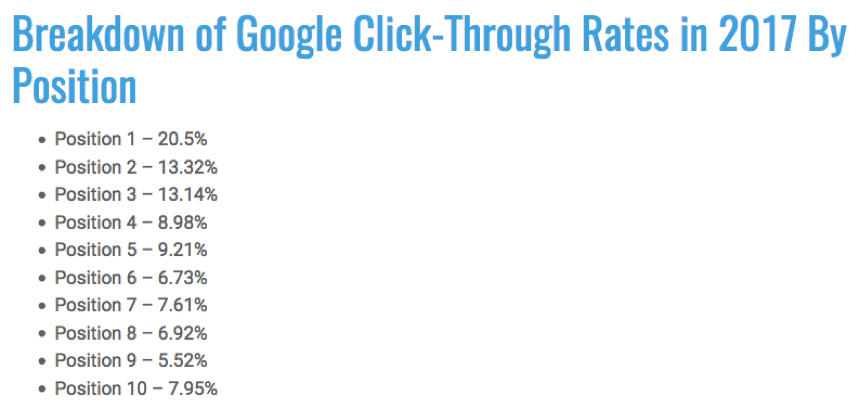 Credit - Ignite Visibility
We're going to share with you 6 simple steps you can take to dominate Google in your local area.
#1 Google Maps Has Changed The Game
In recent years, Google has put a big emphasis on its maps tool. When people search for 'Personal Trainer', Google automatically detects their location and shows them the top personal trainers in their area using the maps tool: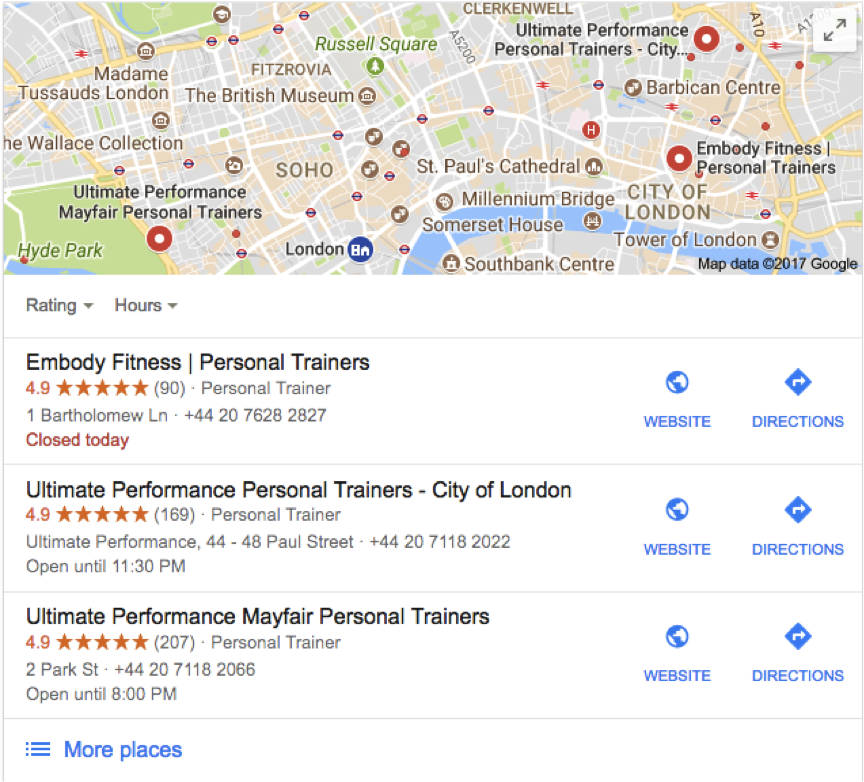 Notice that Google selects the 3 most relevant listings. Getting your website to rank within these 3 listings is crucial to capturing traffic.
To get your business listed, you'll need to set up a profile using Google My Business. If you have a physical location, you can use that. If you don't have a fixed location, you'll need to set yourself up as a service area business and tell Google the area you cover.
Make sure to complete your listing with as much detail as possible. You can also add photos of you, your premises and even your previous clients transformations (with their permission of course).
Once your business is listed, you want to get as many reviews as possible from your previous clients to help your chances of breaking into the top 3. Notice above that for personal trainers in London, the top listings have between 90 and 207 reviews.
#2 Control Your NAPs
Unfortunately controlling your NAP doesn't literally mean how often you take a nap. NAP stands for 'name, address and phone number' and it refers to listings of your business across multiple directories and listings on the web. It's super important to ensure that your listings are consistent. For instance, if you have a listing for your business on Yell.com and a Google My Business listing and the addresses don't match up or even you missed a digit in your phone number, Google will mark you down for being inconsistent.
#3 Get The Basics Right
Google has an algorithm which chooses which sites it should show when a user searches for 'personal trainers' and other key phrases.
There are a few things you need to do to make sure you satisfy Google and rank for your businesses keywords:
Your META Titles should be 50-60 characters in length and include your keywords. A good example would be 'Next Level Personal Training | Kensington, London'
Use SEO friendly URLs. A good example would be nextlevelpt.com/personal-training/london
Make sure your H1 (main header) on a page contains your keywords. For example 'Personal Training London'
Make sure your homepage includes at least 300 words and make sure you include your keywords in various forms several times.
Use internal hyperlinks to link to relevant pages on your site from your text.
Test your site speed and make sure it doesn't take more than a second or two to load. You can do this using Google's PageSpeed Insights tool
Makes sure your site is responsive. More than 50% of visitors now browse from a mobile device.
Have links to your social media pages on your homepage.
#4 Links, Links, Links
You've probably heard of the term back-linking before. A back-link is when company A asks company B to put a link to company A's website on company B's website. The more influential company B's website is and the more relevant their are, the more credit Google will give company A for having a link pointing from their site to yours. Just make sure that company B's website isn't poor quality or spammy, else Google will mark you down for being associated with them.
Asking a few local companies to put a link to your website on their home page can make a huge difference to your Google rank. Getting links from more trustworthy websites such as churches, schools and sports clubs can help you gain Google's trust quicker.
#5 Write Share-Worthy Content
You've probably heard of bloggers who make a full time living from writing blogs, however you probably also know many people that spend half their time writing for their blog and they don't make anything from it.
With nearly 500 million blogs in the world, it is incredibly difficult to stand out. Rather than take a scatter gun approach, target local events and news. Write about things that effect your specific local target market and encourage them to share links to your blog posts on social media.
Guest blogging is also a great way to build links back to your site. Approach other local businesses in similar industries and ask if they want to write a guest blog on your site in return for you writing a guest blog on their site. Make sure to link back to your business in the blog post and Google will recognise that as a back-link.
#6 Trust Takes Time
Once you have made all of these changes, open a Google Webmaster Tools account and request that Google crawls your site.
Once you have done this, it's all a waiting game. If your website is less than a year old, it can take longer for you to build trust with Google. They want to make sure that your website can be trusted.
If your website is over 12 months old, you haven't been blacklisted and you have asked them to crawl your site, you can usually expect to see results within a few weeks.