We've compiled 5 workout styles that will help encourage and motivate your virtual clients to reach their goals
An engaging workout programme separates a good trainer from a great one – especially when it comes to training online.
Designing an effective workout programme for your client is essential to get them the results they desire. When training in person, communication and charisma can be used to engage and motivate a client. However, when training clients online the grunt of the work is up to the programme.
Get to know your clients better: asking the right questions so they get the right results
Achieving a great programme comes down to how well you know your client; make it too hard and your client will give up but make it too easy and they will get bored. The key to this is balance, understanding and a whole lot of creativity.
The difference between knowing your clients in-person versus online is that, online you need to pre-empt their challenges. If you can create a programme that addresses these challenges from the get-go, you can proactively combat your client losing interest and moving elsewhere. This is where creativity counts. Being creative with clients doesn't mean you need to create brand-new exercises. It means bringing new, engaging, and fun exercises to your client's attention so they can stay engaged and focussed on their goals.
Once you have determined your client's challenges, it is easier to plan for when and where they might slip up. Maybe they get bored easily or maybe they hate slow paced workouts – whatever it is; take that information and use it to better plan your client's programmes. Ask the right questions so your clients can get the right results.
To help get the creative juices flowing; here are 5 no-equipment workout styles you can use to engage and motivate your clients at home
1. Promote muscle toning and cardio training with Tabata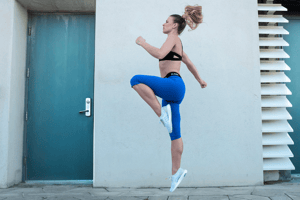 Tabata is a high-intensity interval training workout which consists of eight sets of fast-paced exercises each performed for 20 seconds with a 10 second rest in between.
Tabata is a great option for online clients – its fast paced, easy to change and accessible. The short, sharp bursts of energy promote both muscle toning and cardiovascular training. Use it to focus on a specific area, muscle group or for a full body workout. With a range of Tabata themed songs and timers' available online it's a straightforward option to use to modify your clients' workouts.
Top tip: Use Tabata as a finisher to encourage clients to push harder for that little bit longer.
2. Use box fit for a full body workout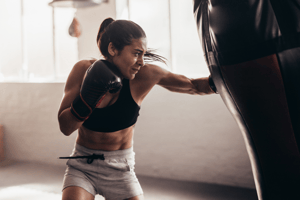 Box fit is becoming increasingly more popular due to its combination of strength and cardio exercises. It is great for online clients as it requires limited equipment and is easy to practise alone.
While boxing itself is a brutal contact sport, the pre-ring prep builds on more than just strength. With a focus on stamina, endurance, balance, strength and coordination, box fit is a great style to incorporate into your clients' workout programmes.
Top tip: Box fit has a great variety of warm-up exercises you can use like sparring and skipping. Incorporate these into your clients' warm-up sequences to add a new challenge.
3. Get clients' moving with dance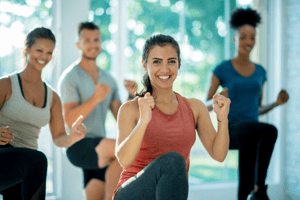 Zumba took the world by storm for a good reason – it's fun. With a range of musical genres to pick from,
dance is great way to encourage clients to get up and get moving.
Aside from being fun, dance requires zero equipment and is a great form of cardio. Use different dance techniques to warm-up, tone and energise your clients.
Top tip: Ballet barre exercises are a great low-impact toning option that require zero equipment. Use them in between sets to add an extra challenge!
4. Promote healthy competition with stairs!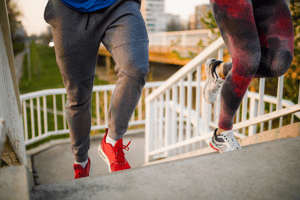 Stairs get results! When compared to running or walking, climbing stairs burns more calories.
Stairs are a full lower-body workout toning leg, thigh, hip and abdominal muscles. With no equipment needed, stairs are a great, straight-forward exercise tool you can use to challenge your clients.
Top tip: Introduce a weekly or monthly steps challenge to encourage healthy competition between your clients.
5. Align client posture with Yoga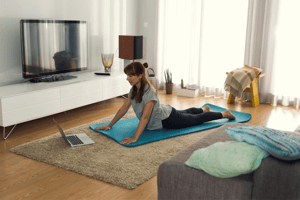 Yoga has many benefits. It can help with breathing, flexibility, relaxation, muscle tone and posture.
Use it throughout your programmes to help stretch clients out at the beginning or end of a workout or, use it throughout to strengthen and tone muscle.
Top tip: Use yoga poses like Cat Cow at the beginning of a workout to promote better posture throughout all exercises.
Mixing up what you do and how you do it is a sure-fire way to keep clients coming back and seeing results. This is especially true for Personal Trainers wanting to maintain and grow a client base online.
PTminder 3 Workout Planner makes client programme planning a breeze; with 1,000 professionally recorded exercise videos available, quickly build a programme that not only tells your client what to do but how to do it.
A valuable tool for virtual trainers, try a 14-day trial for FREE!