At the heart of any business is its revenue. You're doing what you love, but you need to make a living and grow your business as well. For small business owners like personal trainers, keeping financially fit is every bit as important as looking after yourself physically. And it's not just about the bottom line either; there are several key financial areas you need to keep an eye on.
How Financially Fit is Your PT Business?
The PTminder app is primarily for business administration, aiming to streamline your business processes and give you back hours in your day.
This extends to its financial management capabilities. There are a number of ways you can use the PTminder app to track and report on your business expenses and income, here they are:
1. Automate Recurring Membership and Package Payments Through Online Payment
PTminder can integrate with several online payment platforms like Stripe (among others). They're fully integrated into the app, and are an easy way for you to accept credit and debit card payments online.
Using Stripe, you can add your client's card details, and set up recurring card payments that are linked to their membership.
You can record all transactions, and send payment receipts to your clients—they receive an email with a receipt attached as a PDF. If you want to look up previous payment receipts, you can find these in the Transactions and Payments Received areas. If you want payment receipts to be automatically emailed to your clients for online purchases through the Client Area or Mobile Apps, then enable this option in the Client Area Settings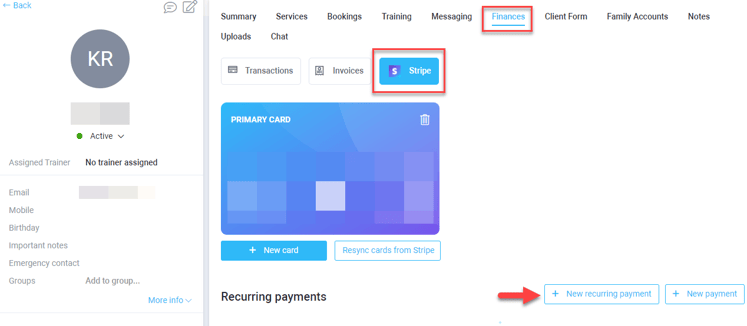 2. Track and Record Business Expenses
It's important to keep track of your business expenses—gym rental, equipment, travel, etc. The PTminder app features an Expenses area where you can record all your outgoings, including recurring expenses. When you run your profit report, those expenses will be included as part of the calculation.
Go to the Finances page, and then to Expenses. Click on New Expense and complete the simple form. Easy!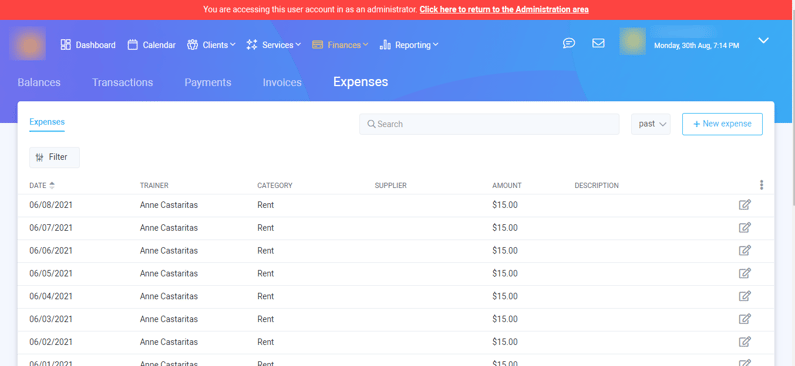 3. Create and Send Invoices to Clients and Track Payment Status
PTminder allows you to customize your invoice preferences. You do this in the Invoices/Receipts/Tax settings area. When you create a new invoice, you can then download, print or email it to your client. Now, you can view all your invoice history from a single view, including each invoice's payment status.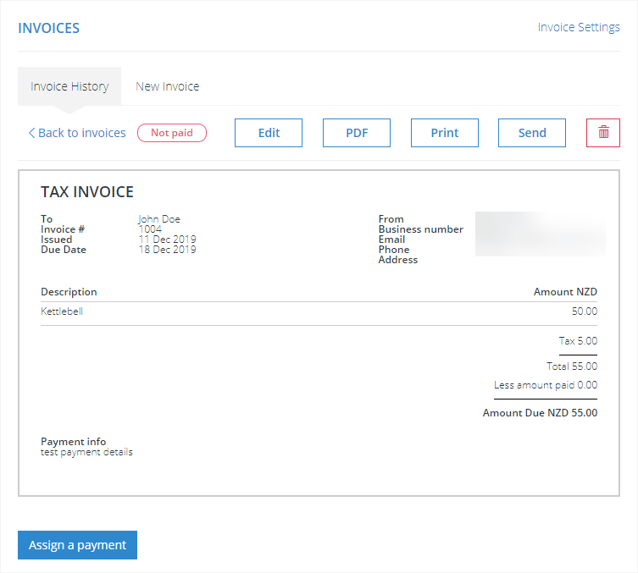 PTminder enables you to track whether the invoice has been paid or not, by assigning payments against invoices. There's a Status badge that indicates if an invoice is Paid, Not Paid, or Partially Paid.
4. Detailed Transaction History Tracking for Every Client
This is another feature found in the Finances tab. You can view a full list of your clients and determine if they owe anything or if they're in credit. You can also view the balance breakdown for each client, such as charges for each session or class, and payment transactions. The Transaction view allows you to see all the charges and payments which make up each client's balance.

5. Multiple Easy-to-Understand Financial Reports to Manage Your Business's Finances
It's important to have a bird's eye view of how your business is tracking. That means regularly checking your built-in financial reports, which you can do in the Financial Reporting section. Reports include:
As you track and assess the progress your clients are making, PTminder does the same for your finances, allowing you to assess your financial fitness at a glance.
Having that information at your fingertips whenever you need it means you can make better decisions around the future growth of your business.
If you're not a PTminder customer yet, but you're keen to see how it can help manage your finances, give it a try for free!