The outbreak of the Covid-19 Coronavirus has meant a global pandemic that is forcing businesses to close and relocating people into their home offices. But Personal Trainers don't need to close their doors; all it takes is a bit of creative thinking and you can open virtual ones instead.

In fact, there are fitness businesses that have taken the initiative and applying some innovative thinking to remaining operational, including:
Equinox - although they've closed their gym doors, they've developed a new fitness app called Variis, which includes everything from high-intensity workouts to yoga sessions


Under Armour - they have a similar app called MyFitnessPal which facilitates a 30-day healthy at-home fitness challenge


Lifetime Fitness - they're making excellent use of social media with lots of resources like home-friendly workouts, healthy recipes, and games for the kids
Launching your Virtual PT business
So what do you need to do to take your fitness business online? It's important to be proactive. Communicate to your clients very clearly what it is you plan to do, and explain that, as always, their health and well-being are your priority.
These are some of the solutions you can adopt as a virtual training business:
Live streaming classes - a variety of video messaging apps like Zoom, Google Hangouts or Skype mean that your clients can still take your classes from home, whether they're group sessions or one-on-one workouts.
Note: The PTminder app allows its users to include video conferencing links to their class bookings, which makes it easy for their clients to join a virtual session from within their app.
Workouts on-demand - Pre-record your workout routines to share with your clients and take the time to produce a high-quality video. Then your clients can work out with you as their schedule allows.


Start up a YouTube channel that includes not only workouts, but nutritional guidance, health advice, recipes (you can even showcase your cooking skills!) and techniques for managing stress or frustration.


Ramp up your social media use - now more than ever, you need to remain connected with your clients. You can chat with them on Facebook or Instagram and continue to provide support and guidance. Offer resources across your social media platforms and organise challenges and competitions that get everyone involved.


Get the kids involved - produce some workouts that the whole family can do. Parents will welcome opportunities to help the kids burn up some energy!


Communication is critical
Communicate with your clients frequently and consistently. It's not just about staying in contact; but also providing value by offering them strategic and proactive advice. Work closely with them to build their program and then keep them on track with it. It will help your clients know that you're invested in their fitness journey. Make sure you keep track of their progress, set up relevant goals that you and the client work to achieve, and keep them accountable. Just because they're isolated is no reason to slack off.

PTminder offers push notifications for you and your clients, which are a great way to be reminded about what you've got coming up, and any bookings your clients have made.
There's also the Reminders tool - you can choose what, how and when to send email and text reminders to your clients.
Build and share workout and nutrition plans
Just because you're not seeing your clients in person doesn't mean you can't maintain their fitness and nutrition. You can build workout and nutrition plans that are tailored for each of your clients' individual needs. You know what their requirements are, so use that knowledge to create customised programs that will keep them going while in isolation.
It's important to cater to their needs, but you mustn't ignore their weaknesses. The programs you create need to consider the areas where they need to put in a bit more work.
Equally important is making sure they can do the workouts and make the meals at home. Don't give them something to do that won't fit into a living room, or ingredients that can't be found at any supermarket.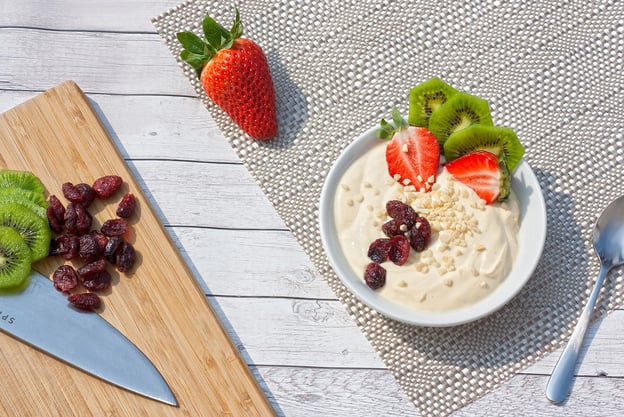 PTminder can help you to:
Again, this is all about maintaining open communication with your clients. The Covid-19 era means that it's more important than ever to keep channels open and encourage engagement.
Looking ahead
When you think about it, embracing the online solution opens up more opportunities for you to grow your Personal Training business. Online training is great because it gives you plenty of time flexibility, and it allows you to recruit clients internationally. You can also use many strategies to automate the process, which means you can work with hundreds of clients at any given time.
Setting up your business to go virtual is a long-term investment; you'll find that many of your clients will continue to make use of it after the pandemic crisis lifts. But not only that, it's important to support your community, and Personal Trainers have long been a source of inspiration for their clients. Never more than now has this been needed. It's a unique opportunity for you to build even stronger client relationships and boost loyalty.
The Covid-19 era is also an opportunity for you to show leadership and genuine support. If your clients are in quarantine or self-isolation, you can still be there to help them get through it by maintaining their physical fitness and supporting them emotionally. The indefinite closure of gyms has seen many people are turning to home workouts to preserve not only their strength, but also their sanity. If your existing clientele tell enough of their friends and family about your amazing online fitness services, your client base will grow significantly - how's that for ironic when the world has shut down!
Keen to find out more about how PTminder can keep your fitness business going through the pandemic? Sign up for a free trial.