Get the New Year Buzz Working for Your Personal Training Business
The beginning of the year is one of the most globally recognized events, and it's usually accompanied by a well-meaning and earnest list of goals that your current and potential clients are hoping to achieve throughout the year. Health and fitness resolutions almost always top that list, hence the influx of health and fitness sales in your inbox at the beginning of every year.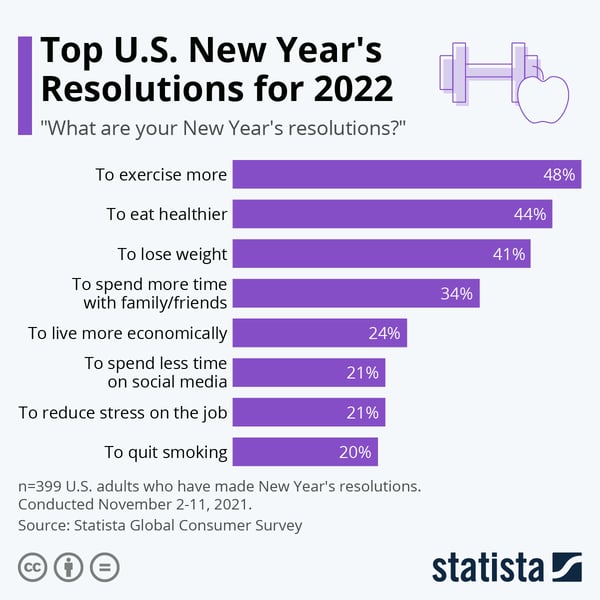 While competitive, what you have before you is the perfect opportunity to take advantage of your clients' renewed focus on self. However, to cut through the noise and drive sales you need to set yourself apart from your competition. Thankfully, our marketing experts have the perfect recipe to engage and convert your business prospects into sales this new year.
The New Year is generally a time for optimism and positive thinking and for many people, the New Year is about new beginnings and creating a fresh start. Add the ever-present COVID pandemic to the mix and now more than ever, people are focused on getting and staying healthy—whether at the gym or with a virtual trainer in the comfort of their own home.
In keeping with the theme of new beginnings, review your marketing strategy and find ways to promote new products and services. It doesn't matter what it is—an updated nutrition plan, innovative new equipment, developments in your class or group sessions—now is the time to focus on them. Your objectives during this time of the year should be around persuading both your current and potential clients to try something different, because now is when they're the most open to new ideas. Capture that excitement!
The start of a new year is also a great time to get client feedback and use it to tailor your marketing strategy for the next 12 months. Your clients like to know that their opinion is valued, so when you ask them to fill out a form or participate in a survey, make sure your spin is along the lines of, "Help us to have an amazing 2022!" Always ask specific questions aimed at generating targeted feedback, as these are much easier for your clients to answer than just asking them to leave you a review.
It's important to remember that while you're encouraging your clients—both current and potential—to try something new, the same goes for you. The New Year is the perfect time to review your business plan and see how your personal training business is tracking. Review your goals and objectives—are they still realistic? How many of them have you achieved? A successful business is one that's continually looking at ways to innovate and improve; those that rest on their laurels will inevitably stagnate and fall behind their competition. Digital transformation is something that's affecting businesses of all sizes, and the fitness industry is no exception. One of the most effective ways to innovate is to digitize business processes wherever possible, which means leveraging technology that benefits you and your clients.
But that's just the beginning. To help you really make the most of the New Year buzz, we've developed a guide aimed at helping you get the business gains you're after this year. It contains detailed management and marketing tips from our team of experts, and step-by-step instructions, including:
How to Create a Compelling Offer—detailed tips that will help you structure and execute your promotion for the best results
How to Build a Social Presence—an effective plan for using your social media channels to expand your audience and grow your brand
How to Get Noticed in the Inbox—don't fall into the trap of thinking email is old-fashioned. There's a reason it's still around and continues to be successful
How to Stand Out with Gmail—it's the top-ranking email client, and you can take advantage of it to best serve your content
Social Media Guide and Calendar Template—a clever tool to help you build your social media presence
The New Year is also the perfect time to give your personal training business a makeover. If you have a bricks-and-mortar location, look for ways to spruce it up. It might be time to update logos and branding, give old equipment the heave-ho and replace with new, and make sure all your facilities are in the best shape possible. Review your online operations and decide if your website needs updating; perhaps it's time to have some new photos taken? Look for ways to freshen up all areas of your business—it's the kind of thing clients notice immediately and it encourages optimistic buying behavior.
Finally, remember that now more than ever, it's important to create a sense of fun. The notion of getting and staying fit should always have a positive spin and be seen as an adventure rather than a chore, and no time is better than the beginning of the year to harness that optimism and keep it going throughout the year.
To find out more about how to promote your personal training business this New Year, download our new eGuide.