Owning and operating a fitness business can be challenging at times. You are promoting on social media, you've got a website, you're doing everything the experts recommended and you've got a steady stream of clients booking.
Great! But there is just one problem – clients are not returning. In fact, that lost client is now training with your competitor. Where did you go wrong?
First, let's look at what you're doing right. You are obviously nailing marketing! So well done. I can't stress how important it is for Personal Trainers to have an online presence. Creating a brand for yourself online is essential to attracting new clients. But all that brand does is create an expectation about what your PT business can do for the client. Delivering a positive client experience is how you retain them.
One way to provide clients with the ultimate client experience is to make scheduling really easy for them. That means using a smart, automated PT scheduling system.
In this blog, I'll provide an outline of the key benefits of using this type of scheduling software so you can keep your clients coming back to you - not the competition.
1. Makes booking sessions simple and straightforward for your clients
When it comes to client experience, your goal should always be to make your client's life as easy as possible. Start by looking at your booking process from your client's perspective.
Do your clients have to call you every time they want to book a class or session?
Or does your current scheduling software often fail, causing more problems than it solves?
Neither option is convenient or easy for your clients. We refer to this as "client friction" - any aspect of the client interaction that has a negative impact on their experience. In this case, fully functioning personal training scheduling software is the best solution to create a positive client experience.
The PTminder scheduling app for personal trainers has helped over 400,000 clients make over 9 million bookings. With this tool, you can schedule in Sessions and Classes into your PTminder Calendar, whether your classes are one-off or regularly occurring. This gives clients the freedom to book whenever they want.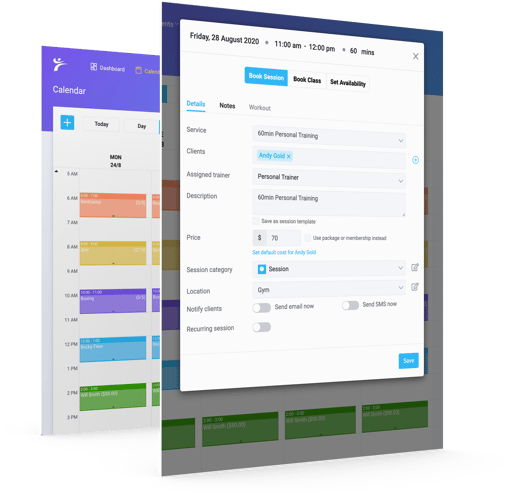 2. Gives you the freedom to manage your calendar the way you need
A Personal Training Scheduling system will give you the freedom to plan your sessions or classes - by the week or over a longer period of time. Not only that, if your software syncs with your everyday calendar - you'll be able to see your work and personal schedule at a glance.
The PTminder 3 calendar can do all this and more. Built with smarter-than-ever features you can now:
Allow clients to book in your sessions and classes at speed.
Increase your attendance rates
Set your availability
Organise class waiting lists
Manage your work and personal schedule in one place, with ease.
Integrate with your Google calendar
It even gives you the ability to set unavailable time windows for more "me" time (you're a hardworking business owner, you deserve it).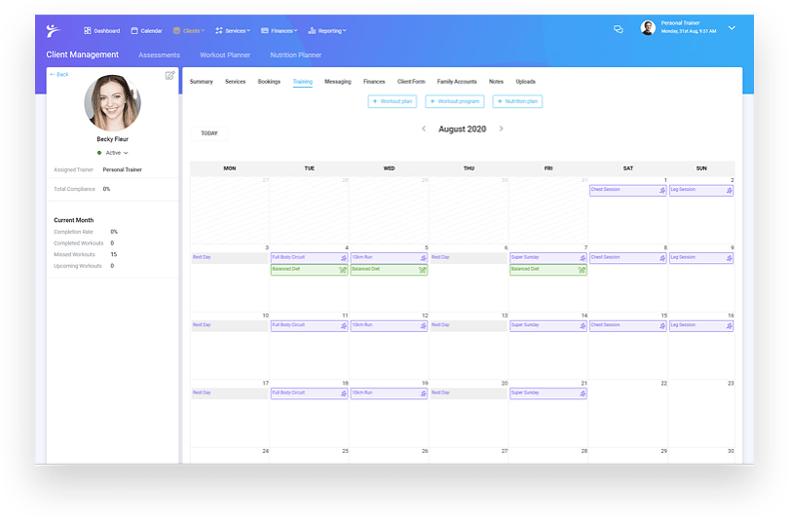 3. Minimize no-shows with better attendance management
A good personal training scheduling system allows your clients to view your upcoming classes by the week, whether there are still available spots or not. In addition, it gives them the option to manage their own bookings or cancel, if they are within the cancellation policy timeframe set by you.
You can also remind clients of their upcoming bookings, cancellations, payments, waiting-lists and when their packages or memberships are about to expire. You have full control over what notifications are sent, how they are sent (SMS text message or email) and when notifications are sent (restrict reminders to only send during suitable time windows... your client might not appreciate a text reminder at 3 am).
As a result, you will reduce the number of no-shows and time spent managing client bookings so you can focus on growing your business and developing a positive experience for your current clients.
4. Allow your clients to pay for sessions they book using integrated payment options
Paper invoicing is outdated, and time-consuming and in-person payment isn't always the easiest most convenient option.
Selecting an online payment system may feel overwhelming at first. There are hundreds of options to choose from and a lot of things to consider with each option, including features, currency options, support of recurring payments, transaction volume ability and compatibility with existing software. Your payment system should be secure, easy to set up and integrate easily with your scheduling system.
For personal trainers, the best option is to find a reputable personal training software that also accepts online payments, and better yet - allows your clients to book and pay all in one go.
Through PTminder, clients can easily pay online for one-off payments like a class or session or recurring payments like memberships. To date, PTminder has processed over $213 million in payments for users and their clients.
Another priority is security, which is why we've teamed up with leading payment processors from around the world to suit users' needs and currency requirements.
PTminder supports payment integrations with Debitsuccess, Stripe, GoCardless, Ezidebit and Paysmart to name a few.
It also offers an all-in-one dashboard you can use to track payments, pending invoices and give you an overview across your business.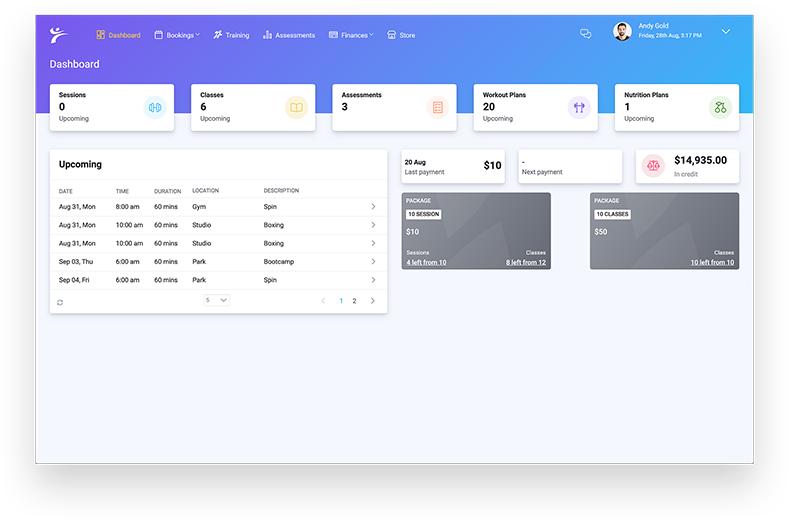 5. Advanced data and reporting for an overview of how your Personal Training Business is performing
With your scheduling system and payment processing integrated into one tool - you'll now have access to data that can give you a high-level view of how your business is performing. You'll be able to forecast cashflow for longer periods so you can stay ahead of the rest and focus on growth.
Some of the reporting available within the PTminder scheduling app:
Summary Report
The Summary Report provides you with a basic breakdown of how many Clients you have under each status, the number of services you have assigned/sold, how many bookings you've made and the value of the payments/expenses you've recorded in the chosen date range.
Daily Schedule
The Daily Schedule report produces a printable list of the session/class events you have on a particular day. This includes all bookings logged for the day whether it is active, cancelled or Reconciled. Each event includes the description, participant name(s), time, location and the total cost.
Session/Class Summary
The Session/Class Summary report provides you with a summary table and graphs including which Clients, the Cost and Duration for each period. By using the various dropdown filters and inclusion/exclusion options, you can really dive into the specific data you want to display.
Client List
The Client List report produces a list of all your clients and their related information (e.g Name, Phone Numbers, Address etc). You can choose which client fields to report on, filter by their Status, and filter by which trainers they're assigned to.
Packages & Memberships
The Packages & Memberships report can be used to find out which clients are on each of your available services. With the range of options you can filter by specific memberships, packages, statuses, trainers or clients. Useful to find out whether any clients' services have expired (or are about to!)
Attendance
The Attendance report is powerful in that you can analyze your clients' attendance by a number of methods, including analysis by:
Client
Time of Day
Day of the Week
Day and Time
Membership
Package
Trainer
Location
Session Category
Class Category
Session Template
Class Template
This can be useful to determine patterns around which events or days/times of the week are most popular.
How to use the PTminder calendar:
Using your client scheduling software as a personal trainer marketing tool
Whether you are an independent personal trainer running your own group fitness studio or have a team of personal trainers working out of your gym, client scheduling software can be a transformative marketing tool for your business.
The PTminder scheduling software means more control for you and more convenience for your clients. With a client-centric focus, you will start to see a higher rate of client retention and a growing client base through referrals.
Try PTminder today. Plans start free up to two clients with all features included and no lock-in contracts or setup fees. Sign up here.