The Value of Using a Custom Branded App for Your Fitness Business
Last year, according to our Annual Trendspotter Report, on average, 64,930 personal trainers arrived on the fitness industry landscape across the US, UK and Australia every month, creating an increasingly crowded market. This trend looks set to continue:

So what does this mean? In a nutshell, it means you need to find ways to make your PT business stand out from the crowd. One of the key areas to focus on is branding. Think of it as the 'face' of your business; it's how clients connect with you, it's what they associate with you. Good branding is more than just colors and logos; it's the entire identity and personality of your business.
Branding is important for all businesses, but for PTs it's even more so; remember, the crux of what you offer is 'personal'. You need to give potential clients the confidence that you'll build a relationship with them, that you're with them every step of the way on their fitness journey. And that starts with good branding.
Learning how to market your PT business successfully isn't something that happens overnight. And if you feel a bit lost when it comes to marketing—especially if you're just starting out—you're not alone.


Strengthening Your Fitness Business Brand on a Digital Level
If you've got a business management solution like PTminder on board, you'll have access to custom branded apps.
Investing in custom branded apps adds value, which means you'll soon realize the benefits in terms of increased client base and profits. However, more business and a higher bottom line aren't the only reasons to customize your PT software. You'll also benefit from:
1. Increased Brand Exposure
Good branding on your website, social media, and all your other digital assets means you'll get recognized more often. Strong branding is something people naturally take note of; much more than they would a business without it. Fitness businesses without any cohesive branding aren't going to stay in someone's mind for very long.


2. Branding Helps Build Trust
For all PTs, trust is an essential element for business success. You're offering one of the most personal services there is, and strong relationships between a PT and their clients is crucial. Professional, positive branding is something that any potential client will expect to see when they're checking out their fitness options, and if it's missing, that's likely to be a red flag. Branding tells people very early on what they can expect from you.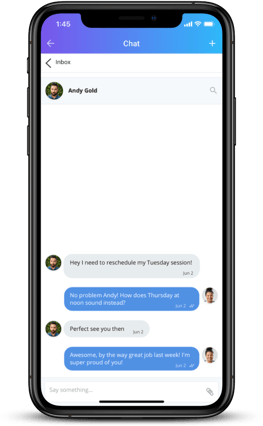 When you leverage custom branded apps, that's an investment your business is making to improve itself, and potential clients will recognize that you put in the work to create your brand—and they're more likely to trust you from the beginning.
3. Increase Your Brand Professionalism
One of our clients, Hailey Holmes, says that PTminder improves the look and feel of her business, giving it a professional edge. "PTminder makes my business look professional," she says.

The more professional your business looks, the more people will be attracted to it. If you had to choose between a business with clear, professional-looking branding and one that hasn't made the effort, you probably know which one you'd trust more. If your business looks professional on a digital level, it's a sign to potential clients that you're a dedicated fitness professional as well. Branding demonstrates to potential clients that you're an established, credible business.

4. Cohesive Marketing and Advertising
Branding and advertising go hand in hand, which means you need to create good branding if you want to optimize your advertising. When advertising your business, all your digital assets should be cohesive and represent your business's identity and values. This is a lot tougher if you haven't taken the time to form your brand. Advertising without solid branding means you're missing out on a lot of great opportunities to create an effective campaign.

5. Improved Client Experience
The better the experience you offer your clients—and not just around their workouts or nutrition plans—the more likely they are to remain loyal to you. Good branding—especially for PTs—puts a more personal, human side on your business. There's an emotional side to all fitness journeys, and the right branding will help you to build relationships with your clients, and that increases their loyalty. When you create a brand that people actually care about, you're generating a clear competitive advantage.
Using PTminder to Showcase Your Brand
The PTminder app offers custom branding options, to increase your brand exposure, improve your sales, and retain more clients. Your own custom branded app will have your logo and color themes, and they work on iOS and Android.
Setting them up is quick and easy. The PTminder custom branded apps are a cost-effective way to boost your business branding and stand out from the crowd.
If you're new to PTminder, give our 14-day free trial a go. If you're already part of the PTminder family, apply now for your custom branded app.