Personal Trainer Hailey Holmes launched her business after having her second baby and discovering there weren't many fitness options for mums in her area.
Watch Hailey talk about her journey with PTminder here:
Leaving the corporate world behind, Hailey ventured into the world of Personal Training. "I started out with casual bootcamp and Metafit classes in a local park," she recalls. "I moved the classes into a community hall in January 2017."
She opened her fitness studio Locale Fitness in 2018, and has been growing steadily ever since.
Locale Fitness specialises in HIIT-style workouts with some strength and conditioning to balance it out. They also offer Yoga, Pilates, freestyle workouts and routine ones like Metafit, MetaPRO, MetaPWR, HIITSTEP and Fatburn Extreme.
The problem: Need for scalable admin processes to keep pace with growing client base.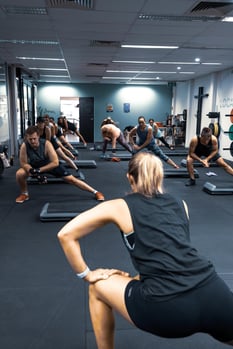 Hailey started the group fitness studio for her growing clientele of young mums.
Her business has continued to expand, while her clientele continues to evolve. She now focuses on creating workouts for busy people.
As her business grew, so too did her need to automate her administrative processes, allowing her to keep track of her clients, classes and bookings, while also giving her the time she needs to spend with them – not behind a desk.
"Since opening my doors my client base increased significantly, I went from about 50 semi-casual clients to 150 within about 6 months. I realised in the very early days that it was important to get a system that holds all of the information for me", she recalls.
That was when she discovered PTminder.
The solution: End-to-end business automation software that also looks great!
The PTminder solution is designed to simplify day-to-day administrative tasks so that Personal Trainers like Hailey can focus on their clients.
Among the solution's many features, Hailey has her favourites for the ongoing improvement of her business management. Some of them include:
Streamlined client management with the ability to track all her clients' activities, including bookings, memberships, payments and their individual progress
Easy online session bookings – using their member app, Hailey's clients can view their PT's schedule and make their own bookings
Reporting – PTminder comes equipped with a number of

general & financial

reports that help her understand how the business is tracking.
Effortless payments – Personal Trainers can take control of their income by choosing when and how they get paid, without having to worry or chase up late or missed payments.
Hailey is also impressed with how the solution helps her manage her finances. "I love that there's that graph on the desktop," she says. "As soon as you open it up, you know where you're at for the month and that you can project your income as well."
The result: Sleek and intuitive features that make life easy for clients and trainers alike.
Like many of our customers, Hailey loves the convenience and design of the PTminder solution.
"I love the fact that I can do it on my phone… and that it's automatic," she explains. "Clients can sign up themselves, they have control over when they want to start their membership."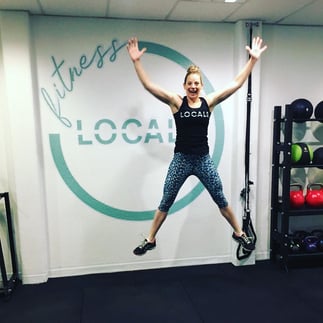 Not only that, but PTminder helps improve the look and feel of her business, giving Locale Fitness a professional edge.
"PTminder makes my business look professional… I need to control numbers in my classes, and I have a limited number of spin bikes and steps," she explains. "So it's a great way to manage class numbers as well. The app is easy for my clients to use – actually, it makes life easier for everyone!"
For more on Hailey's story, check out 'Locale Fitness' online:
Locale Fitness | Facebook | Instagram
If you'd like to keep track of your PT business and give it a professional edge, the PTminder solution is available for a free 14-day trial. Give it a go!