Key PTminder Workout Planner Features to Maximize Your Time and Delight Your Clients.

Workout plans are an essential component of personal training, and they are highly valued by your clients, being an integral part of their fitness journey. We bet you're wishing they didn't take up so much of your time though! The challenge you face is making sure your clients optimize their workouts by doing them properly—that's how they get results. That's what keeps them coming back.
PTminder business management software has been designed specifically for busy personal trainers who need the heavy admin lifting taken off their shoulders. One of the key benefits of the solution is that it saves you time and gives you back hours in your day, by leveraging innovative features designed to streamline your business admin. One of the most popular features is the Advanced Workout Planner.
The Workout Planner—Simple, Efficient and Professional
This feature allows you to create innovative workout plans that you and your clients will love. It includes an exercise database of over 1,200 professionally produced videos and descriptions. Each exercise includes information around which part of the body is worked and includes detailed steps on how to conduct the exercise. You'll also find links to online videos.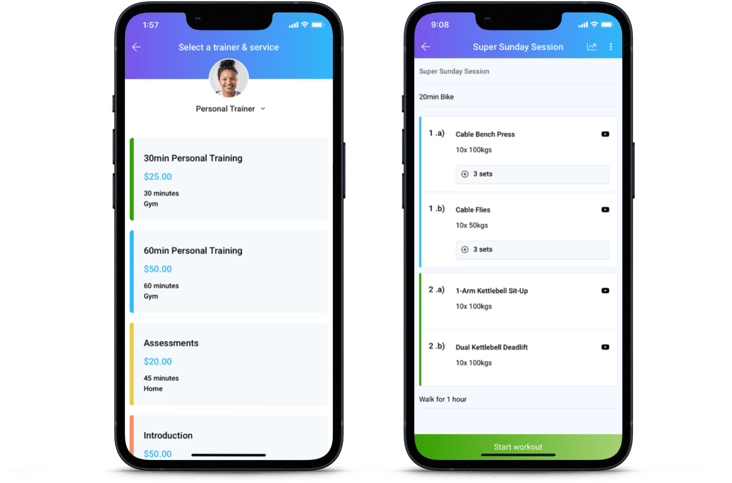 You can create your own custom exercises, and assign individual programs to specific clients, who can access it via the mobile app or the browser version. Once the workout plan is underway, you can track your clients' progress in the training area.
The Workout Planner was developed with the needs of both you and your clients in mind. Let's take a look at how you can really make the most of it.
The Benefits of Using a Workout Planner
The Workout Planner is designed to save you time. Easily create informative and descriptive plans that are simple to follow and not admin-heavy. When you really leverage the potential of the Workout Planner, you can:
Create full weekly workout programs with different days—this flexibility means you can tailor your workout plans based on your clients' schedules.
Assign the same program to multiple clients—if you have several clients with similar goals and fitness levels, you'll save time by getting them all onto the same workout program.
See when last plan was created—this means you'll always know when it's time to revisit the program or create a new one. Your workout plans evolve as your clients progress, so you stay on the pulse of client satisfaction.
See when people have engaged with their plan—it's an easy way to make sure they're accountable. Chat with your clients to see how they are going, and set reminders so that you're always engaged with them and their progress.
Create a timeline—this allows you to measure how results are going against other features in the app.
Essentially, the Workout Planner means you're offering high quality, customizable workouts for your clients Here's how to get it set up, and a quick, handy video to give you an overview.
Delight your Clients with Custom Designed Workout Plans and Track their Progress
Anything that helps your clients get the most out of their fitness investment and fits into their schedules while making it easy to stay engaged with you is going to be a hit. Plus, it's innovative tech—and that's always fun.




Your clients can leverage the Workout Planner to its full potential with:
In-depth plans that are descriptive and informative—with over 1,200 videos to offer them, your clients can see exactly what they need to do for each exercise. They'll get results faster if they're working accurately.
Easy access—the Workout Planner is clearly visible in the app, it's not something they have to waste time searching for.
Progress tracking—it's not just you who'll be keeping an eye on how your clients are doing. With the Workout Planner, your clients can track their own progress, which is very motivational. The more success they have, the more they want.
Continual engagement—the Workout Planner makes it easy for your clients to communicate with you. They can ask you questions, and you can stay in touch with them as their workouts progress which is a great way to keep them motivated and accountable.
Because the Workout Planner is so collaborative, it helps to strengthen the relationship between you and your clients.
Like all of the PTminder features, the Workout Planner was developed to save you time while still delivering a quality service. The Workout Planner is a highly popular feature with our customers for that reason; it's a simple, efficient and professional way to optimize both your time and your expertise.
Keen to see the Workout Planner in action? Try PTminder FREE for 14 days.