In a recent blog post titled 'Pump It Up With These 5 Apps For Personal Trainers' by the popular app comparison site GetApp, PTminder was chosen as the number 1 business management app for personal trainers with over 120 reviews at an average of 4.6/5.
GetApp is the leading platform for comparing business apps with 5,000+ apps, 160,000 reviews and 2 millions visitors per month.

After listening to our customers and spending thousands of hours improving our product, we're stoked to be named as the world's leading personal training software app. But it got us wondering; what is it that sets us apart from our competitors, and how can we keep exceeding the expectations of our customers?
According to Suzie from GetApp: "For personal trainers, the hardest part of the job takes place outside of the gym. From scheduling appointments, to planning workouts, to managing customer payments, the easiest way for a personal trainer to stay organized is by using a personal trainer software. PTminder is one option that reviewers on GetApp have praised for its easy set up, its mobile access, and its automated client payments, making the day-to-day admin tasks of a personal trainer much easier to manage."

While that makes sense, that was a little simplistic for us, so we dug deeper. We spoke directly to our customers and it turns out that when it comes to personal training software, there are three key areas that our customers love about us:
1. Simplicity
Getting a balance between offering lots of features and keeping things simple is a tough one, but it's always been a priority for us. There is nothing more frustrating than trying to get set up with a complicated piece of software. Not only is PTminder packed with lots of amazing features, it's incredibly intuitive and accessible on all devices.

2. Customer Support
Anyone that has used software before will know how often things don't work as they should and when that happens, having reliable and fast customer support is essential. No one wants to look amateur in front of their personal training clients. With PTminder, you can chat to a member of our support team on live chat 24 hours a day, 7 days a week!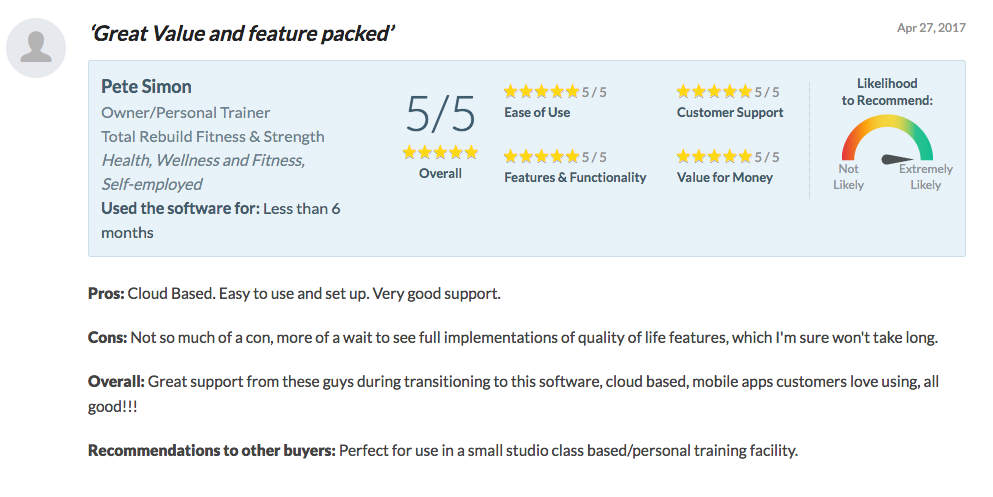 3. Feature Rich
There are several personal training software providers, but it's so frustrating when you spend hours getting set up, only to find that a key feature is missing. We have spent the past 5 years listening to our customers and constantly making new improvements. We are now able to offer an all-in-one complete solution for personal trainers and studio owners.