Amanda Friend launched her now business, ALF Health in August 2015 in Lockyer Valley, Queensland Australia. At first, Amanda practised as a self-employed Personal Trainer – never dreaming her business would grow to where it is today.
Watch Amanda talk about her journey with PTminder here:
Today (2020), Amanda operates Lockyer Valley's only exclusive female fitness community with a range of classes and sessions in Gatton, Glenore Grove, Plainland, Hatton Vale and virtually, from anywhere in Australia.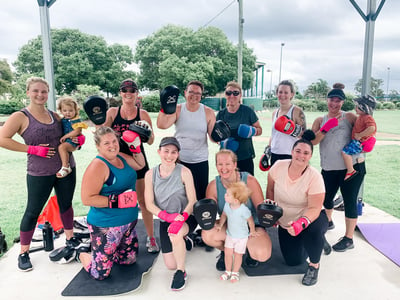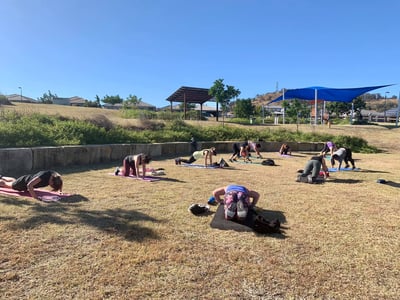 ALF Health believes fitness is about 'finding balance to flourish' its tagline 'Breath. Move. Be.' designed to encourage woman to reject societal weight loss pressures and strict diet culture to instead focus on how fitness makes them feel.
The challenge: New growth exceeded manual management capabilities
As session times increased, and client numbers began to grow – administrative tasks were beginning to take over Amanda's life. "I was going crazy getting messages left, right and centre of clients booking in, then changing their sessions, or not being able to make it."
She also introduced small group gym sessions, limited to a certain number – which meant she needed to keep track of registrations and attendance.
Aware she needed a better system – Amanda found a solution in PTminder.
The solution: An all-in-one business management solution
Around 4 years ago, Amanda found PTminder. Originally looking for a client booking system, Amanda found an all-in-one solution she could use to manage all her business administrative tasks including:
Recording client information
Recording and tracking income and payments
Managing staff
Booking clients into sessions
Communicating class timetables and other information to clients
PTminder has offered Amanda much-needed administrative relief and is extremely user-friendly for her clients. As more features have been added, Amanda is continually finding new ways to utilise PTminder throughout her business.
"I love that PTminder has integrated with Google calendar so you know exactly what you have on and can schedule life easily in one place."

The result: A simple, scalable system
PTminder has reduced Amanda's admin work enormously, giving her more time and energy to support clients. With everything in one place, Amanda and her clients can better communicate with each other in a more efficient way. "The clients find it easy to use too. They can see availability, book and change as they go, as well as make payments."
During COVID-19, PTminder helped ALF Health to keep income coming in and memberships active. Although some clients needed to drop their memberships - due to loss of incomes and financial uncertainty – the virtual training feature in PTminder helped the ALF Health team to keep remaining client's engaged and accountable from home.
With additional features continuously getting added, Amanda feels PTminder can scale with her.
"PTminder has thought of everything. It is so simple and effective, and the customer service is efficient and so helpful."
"I would not be able to run my business without it!"
For more on Amanda's story, check out 'ALF Health' online:
ALF Health | Facebook | Instagram
Sign up for a free trial to see for yourself how PTminder can help simplify your business processes.