A little over five years ago in Perth, Western Australia, Cecelia D'Amico started 'Your Place My Gym'. The concept was simple - make fitness fun and accessible. 'You choose the place, I bring the gym.'
Watch Cecelia talk about her growth journey with PTminder here:


Cecelia explained the concept of 'Your Place My Gym' came from humble beginnings. "In the beginning, when we arrived to Perth from Argentina, since we didn't have enough money, I went to my clients houses by bicycle no matter the distance!"
Cecelia found that her clients just didn't have enough time, or motivation to get to the gym. So, she decided to start meeting them where they were.
After finding her niche and building a professional website, Cecelia's business 'Your Place My Gym' started to grow.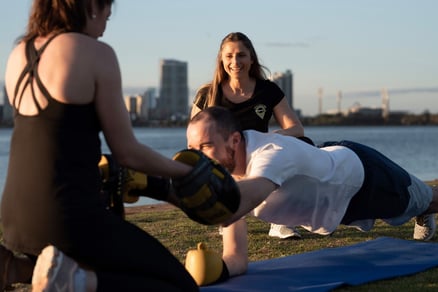 The challenge: Back-end account management took time away from clients
The concept was very popular, and soon Cecelia had a growing list of clients and Personal Trainers across Perth. While happy with the result, the increased need to manage client timetables, personal trainers, and back-end accounts took Cecelia away from what she loved most – training clients.

"When my business started to get bigger, I needed to organise all the information, especially for all of my clients." Wanting to demonstrate a level of professionalism to her clients, Cecelia knew she needed a better management system.
The solution: all the information needed to run a PT business – in one place
Fed up with the increasing paperwork, Cecelia knew she needed a management system to help run the day-to-day operations of her growing business. With a quick Google search, and a helping hand from her husband - Cecelia downloaded PTminder.
She started seeing the difference almost immediately. "PTminder helped me to organise all the information related with my business. All my client's details, trainer calendars, income and projections." With all this information at the tips of her fingers, it was easier than ever to plan ahead for her business.
Key features:

• From financial reports to client reports – the reports feature continues to provide Cecelia with the needed overviews to better plan and make business decisions

• Cecelia admits the online forms feature is her favourite. Explaining that obtaining and managing important client information like medical conditions, injury history and contact information is easy – you just send them a link!
•
Online bookings
have made client management a pain-free process for Cecelia and her team. With appointments, cancellations and reschedules all in one place, communication is a simple process
The result: endless features make planning a breeze
Cecelia admits the impact PTminder has had on her business has been huge!

"Without this software, without PTminder, I would not be able to do what I'm doing now...PTminder is very friendly, and with so many features it's very easy for me to plan ahead and make decisions."

Through the increased range of features and continual updates Cecelia can continue to expand her business while doing what she loves – training her clients.

Cecelia highly recommends PTminder to other trainers looking for a business management solution, "It's is a very adaptable and friendly software to organise, optimise and manage your business. Plus, the PTminder team is very supportive!"


What's next?
Cecelia is looking to the future and hopes to expand her client offering to include further app features, like the new nutrition plan.

"We currently don't offer nutritional plans for our clients because we are not dietitians or nutritionists. We offer tips and advice to our clients, but not a specific diet. My plan is to add a nutritionist or dietician to our team so we can provide this to our clients."
Check out Cecelia D'Amico and Your Place My Gym online:
Your Place My Gym | Facebook | Instagram
Looking for a way to manage and organise all your client and business information like Cecelia? Sign up here for a free trial.