PT Workspace is a new and interesting concept, providing Personal Training spaces in prime locations at great prices. They also offer business support and mentoring for new PT business startups. We're lucky enough to have interviewed one of the founders, learn more about their business below!
The name of your fitness business and how long you been in operation for?
PT Workspace, Founded in 2016.
What kind of fitness business do you run?
Founders Nathan Drury-Ellis & Nathan Khider came together in a common goal, to support independent personal trainers grow their own businesses through affordable and honest studio rental prices. PT Workspace is a private personal training studio based in Islington, London.
Describe what your typical day looks like?
A typical day at PT Workspace starts very early as the personal training studio is open to PT's looking to train clients before they start work. PT's can use a fob to let themselves into the studio and we can keep track of who is coming and going via the booking system, which is a user friendly booking app available to all PT's to book sessions and slots with ease and flexibility.
As the studio manager I will oversee the general running of the studio is smooth. Come lunchtime I will usually squeeze in a bite to eat and have studio viewings where I give tours of the space to perspective PT's looking to grow their business with us. Where possible I will always find time to speak with other members of the PT Workspace team, so we are all on the same page with the business which spans the website, marketing, studio equipment to general enquiries and studio bookings.
In the evening I will usually personal train a couple of my own clients, as well as meet and greet personal trainers as they arrive and leave. As a studio manager it is of the utmost importance that I have a good relationship with all the personal trainers here, so we can create a positive, welcoming, working environment.
Explain what challenges were you faced with running your fitness business?
PT Workspace is a very new concept on the personal training scene in regards to a gym which really focuses on supporting PT's alongside their clients. We offer affordable private studio rental as well as marketing support for growing businesses, so to begin with it was making sure that there was demand for PT Workspace, that way we could meet our margins and grow the PT community. However now as we are beginning to expand, we are working tirelessly to streamline area's of PT Workspace which will help maximise the services we offer.
Why did you choose PTminder?
We chose PTminder because it had everything we needed as a growing business, enabling us to invest much needed time in other areas.
Explain how do you use PTminder for your business?
PTminder has helped scale our business as it has grown over the last two years, which has been a great help! Without lifting a finger, I am able to track my sales, keep an eye on expenses and even view projected earnings for PT Workspace. But the most useful tool is being able to track all our bookings so we can ensure the smooth running of our personal training studio.
What would you say to other businesses starting out in their career?
You must believe in the product or service in which you offer, passion and hard work goes a long way. Also surround yourself with the right people, with the right skill-sets because they can help make you or break you in business.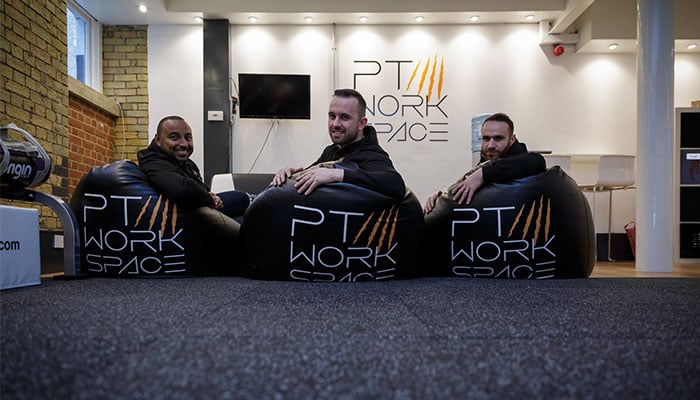 Check out PT Workspace online:
Facebook - https://www.facebook.com/ptworkspace
Pinterest - https://www.pinterest.co.uk/ptworkspace1
Instagram - https://www.instagram.com/ptworkspace1
Web - https://www.ptworkspace.co.uk