Simon Schmid's no stranger to the Personal Training industry. He's been in the game since 2001, with a string of high-end, commercial training facilities in South Africa. But as his own life changed, so did his business focus. "I'm now what's called a lifestyle coach," he explains. "That's different to a conventional PT business; I'm a trainer, therapist, counsellor, and nutrition advisor all in one. I've been focused on lifestyle coaching since 2010."
Launched in the UK in 2018, Simon's lifestyle coaching services offer health and wellness mentorship and coaching. Understanding performance-driven results, Simon has worked with fitness models, sports stars, celebrities, as well as notable TV presenters. So confident is Simon in his tailored programmes and the results they produce, he offers a money-back guarantee.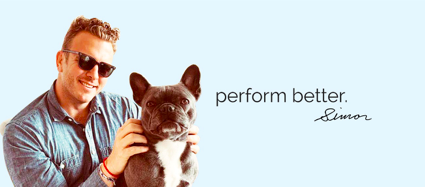 The challenge: a focus on freedom
Although Simon had been using a software solution for his gyms in South Africa, when he launched in the UK, he decided he needed something different in terms of business management software. His two main concerns? Freedom and time. "When what you're selling is your time, this becomes critical," he says. "I needed the freedom to devote time to my clients and to my programmes. I didn't want to get caught up in administration, that's not my strength. I needed something that would handle that for me so I could concentrate on what I do best."
Simon understood that what he was looking for was a solution that would automate his business processes, so that he could add value for his clients. "I tailor programmes for my clients' individual needs, so I was looking for something that could handle life coaching, exercise, weight loss and the other services I offer," Simon explains. "My business is very bespoke and personal, and I needed something that I could customise for my own requirements."
The solution: software with a personal touch
Simon began his search for a business management software solution that would meet his very individual and personal needs.
He looked at several options and landed on PTminder as his final choice. "I chose PTminder because of the personal touch," he recalls. "With the other solutions, if you needed support you'd wind up in a call center. I was looking for something that meant one-on-one engagement with a real person on the team, because that's the kind of service I'm offering to my clients, and it was important that I got the personal touch as well."
The other feature that made PTminder stand out was its simplicity and ease of use. "I didn't want to spend time trying to get my head around something complex and would create more problems than it solved," Simon says.
"PTminder was easy to get to grips with and almost from the beginning it freed me up from admin tasks so I could concentrate on my business and my clients."
The results: a solution that grows and evolves with the business
Because Simon offers very bespoke services in his lifestyle coaching, he creates different packages for different clients. "So some of them have full access to me through PTminder, and some of them are just buying sessions," he explains. "But the ones using it have found it fantastic - again, easy to use. They can sign up, they can book their workouts and they can get their coaching notes."
Simon goes on to note that the ability to track clients' progress is essential. "We can look at weight loss, energy levels and mental well-being," he says. "And I don't have to chase people for payment and it prevents any disagreements; if someone tells me they've only had nine sessions, but they've paid for ten, I can just go into the system and show them how many they've actually had."
A part of Simon's business these days involves an increased focus on public speaking and podcasts. "People can actually go into the system and book me for that," he explains. "This is important for me, because it's an area of my business that's growing fast." As Simon's business grows and evolves, so does PTminder.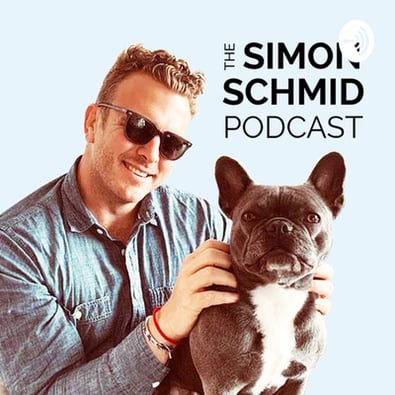 Callum Cook, co-founder of PTminder sat down with Simon on his podcast to talk about the PTminder origin story, listen to the episode here.
From the beginning, Simon has had personal support that's not just about fixing problems - it's about being on the journey with him and understanding the nature of his business. "I can't fault them," he says. "Any issues that have cropped up they've dealt with swiftly. They're also wonderful about taking my suggestions on board so that PTminder can continue to support my business as it evolves. And it's very stable - I've never had any network issues, never had it collapse on me."
For Simon, one of the biggest impacts PTminder has had is enabling him to travel and be mobile. "Freedom is very important to me. I don't want to be tied down in one place," he explains.
"PTminder means I'm mobile, and that's essential because I do a fair bit of travelling. I can keep track of my bookings and stay in contact with my clients. Because PTminder is mobile-friendly and so flexible, it allows me the freedom I need to be on the move. It's had such a positive impact on my business in terms of travel."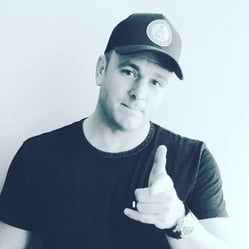 When asked how he would describe PTminder to someone else in the PT industry who was looking for a business management solution, Simon's response is unequivocal. "If someone asked me about PTminder, I'd tell them they're a fool not to be using it - it's that simple," he says. "Because it takes away all your admin pressures and frees you up to focus on what you're good at. It automates your business processes, handles the day-to-day challenges, and by doing that you can not only focus on what you're good at, but you can become better at it."
Check out Simon Schmid online:
Simon Schmid | Facebook | Instagram | Podcast
Keen to find out more about how PTminder can free you from the shackles of paperwork and admin? Try it for free!